When using wireless networks, the WiFi bridge device connects directly to your Apple TV for hospitality, and allows you to avoid having to re-enter your property's wireless network password after each Erase and Reset of the Apple TV.
Step 1
Plug the Wi-Fi Bridge into a power outlet next to your router. Wait until the Power LED on the tp-link device turns solid on.

Step 2
Using an ethernet cable, connect one end to your computer, and the other end to the tp-link device.
Step 3
Open a web browser and go to http://tplinkrepeater.net (or http://192.168.0.254)
Step 4
Follow the instructions on the website to complete the setup.
Step 5
Once the initial setup is complete, log back into http://tplinkrepeater.net (or http://192.168.0.254) and access the advanced setup options.
Click on "Wireless"
Scroll down to the "Extended Network" section and un-check both the "Extended 2.4GHz" and "Extended 5GHz" options
Verify that "Connect to Host Network" is connecting to the right network and has the correct network keys.
Click on "Save" at the bottom of the page.
When you see the prompt "Disable extended Wi-Fi? You will need Ethernet connection to the extender or reset the extender to re-enable extended Wi-Fi!", click on "Continue"
Step 6
Unplug the ethernet cable from your computer, and connect it to the Apple TV for Hospitality. (The tp-link device and the Apple TV for Hospitality will now be directly connected using the ethernet cable).
---
TROUBLESHOOTING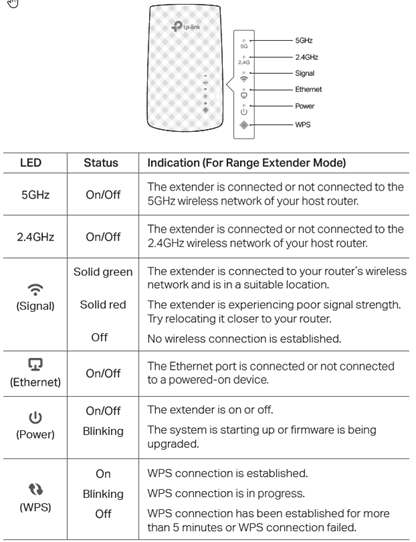 What should I do if the signal LED doesn't turn solid on after completing setup via the web browser?
You may have entered incorrect Wi-Fi password for your host router during the configuration. Check the password and try again.
Make sure the extender is close to your router, preferably within 16 feet, and away from large electrical appliances.
If you have enabled wireless MAC filtering, wireless access control, or access control list (ACL) on your router, disable them first, then follow any method on the front page to complete the configuration.
Reset the extender and go through the configuration again.
How do I reset the tp-link device?
With the device powered on, use a pin to press the RESET button for 1 second. The device will reboot.
Additional Support Tools:
For additional technical support, please visit the manufacturer's website: